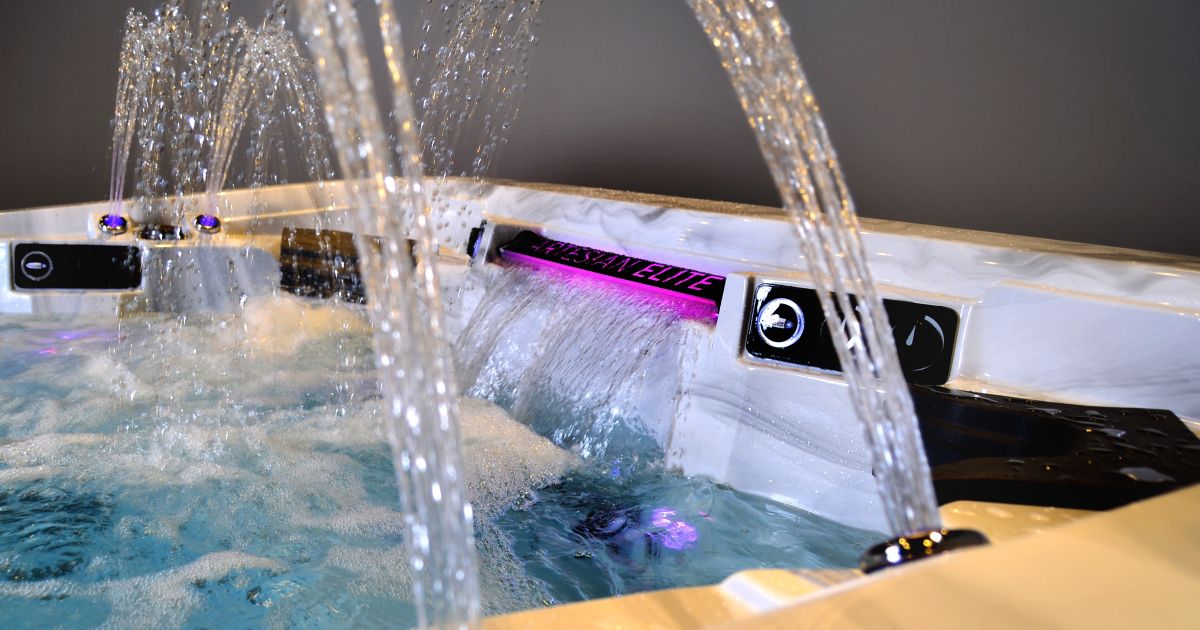 Everything You Need to Know About Hot Tub Wet Tests
Everything You Need to Know About Hot Tub Wet Tests
You wouldn't buy a car without taking it for a test drive, and here at Luxury Spas Direct, we recommend you don't buy a spa without doing a wet test - we encourage you to dip your toes in the water, before taking the plunge!
Why do a wet test?
A spa is an investment. Whether you are investing in your health and wellbeing, in creating a tranquil retreat to spend time with loved ones, or in making a unique social space to achieve your dream lifestyle, it is important to choose the right spa based on your needs. Like with any other investment, it's important to do your research and weigh-up different options, so you can buy with confidence.
Just like a test drive allows you to cut through the manufacturer's marketing brochures and sales-speech, a wet test is absolutely the best way to know which spa is going to be right for you. A brochure can give you the specifications of different hot tubs and can list the benefits of different features; a Salesperson can listen to your needs and describe the benefits of different models; but a wet test allows you to feel it for yourself - only then can you make a properly informed decision about what's right for you.
Wet tests help you make the right spa choice, based on your needs
But don't just take our word for it. Here's what one of our customers, Craig, has to say about the importance of taking a wet test:
"This is our first spa purchase, so the process was new to us. I had thought the wet test would be an attempt at the hard sell, and it'd be unnecessary as one spa is fundamentally the same as the next. I couldn't have been more wrong - on both counts! Obviously with Luxury Spas Direct there was no hard sell, it was a really relaxing hour or so, and Gemma just wanted to explain the differences - which were huge, to my surprise. We tested 3 spas and the type, location and power of the jets was very different in each (seriously, very different!). I can't understate the importance of a wet test...you wouldn't buy a car and not test drive it, would you?"
What can I expect from a wet test?
Hopefully we have convinced you on the importance of the wet test. Now let's cover what you can expect from the experience and how to make the most of it.
First of all, put any fears about parading around a showroom in your swimming costume right out of mind! All wet tests are booked when the showroom is closed, and we can assure you of absolute privacy.
We have a dedicated changing area and we will provide you with robes, towels and slippers. All you need to bring is your swimwear – and any family or friends you want to join you.
A member of the team will show you to the first spa and talk you through the different settings and features, so you can feel exactly what each does.
We have carefully selected three very different spas for you to test, each of which is representative of the varied features available across our different ranges.
Luxury Spas Direct Top Tips to Get the Most from Your Wet Test
Take Your Time
You need to allow an hour or so for the wet test. There's no rush – enjoy it! Spend time getting to know the controls and features and then sit back, relax and enjoy each spa experience. Give yourself enough time to get a feel for each spa and compare the different features.
Size it Up
One of the key factors to consider when choosing the best hot tub for your needs is size. It's only when you are sat in a spa, enjoying the bubbly jets, that you can see for yourself if there's enough room for you and your loved ones. This is why it can help to bring friends or family with you to the wet test.
Are you Sitting Comfortably?
Whether your garden spa is for health and wellbeing, relaxation, or socialising, comfort for you and your hot tub guests is crucial. Check all the different seating options to get a feel for the different positions. Make sure the water depth is right for you too – you want the water to be coming to around shoulder height, especially if you plan to use your spa on cold, crisp winter's days (bliss!).
Jetting-to-know all about Hydrotherapy
Spas work on a combination of heat, buoyancy and targeted massage, all working together to create a completely relaxing experience that benefits both mind and body – that's the essence of hydrotherapy. An essential part of the hydrotherapy experience are the jets. Different hot tub models will have different types and numbers of jets. The only way you can make a judgement about which combinations will be best for you is to soak in a spa and feel them work their hydrotherapy magic.
Ask Us Anything
The purpose of the wet test is to let you feel the varied spa experiences created by different hot tubs styles and sizes. Feel free to ask us any questions about the our spas and their features. We want you to leave the wet test feeling like you have all the information you need to make informed choice. Your satisfaction is our number one priority.
Want to know more?
At Luxury Spas Direct, we are passionate about delivering the best quality spas, great value for money, and unbeatable customer service. Our friendly team is here to help you choose the right spa for your needs and your budget.
Our showroom is an oasis of calm, showcasing the range of spas and accessories we have to offer. Based in Bamber Bridge, near Preston – right in the heart of the North West – we are within easy reach of the M6/M61/M65 motorway network and less than an hour from Manchester, Liverpool, Chester, Lancaster and The Lakes.
Ready to book your hot tub wet test?
Speak to a member of our friendly team on 01772 364400, email enquiries@luxuryspasdirect.co.uk or call in to our showroom at Unit 12, The Old Mill Industrial Estate, Bamber Bridge, Preston, PR5 6SY.