Artesian Spas
Pelican Bay
The Pelican Bay is the ultimate therapeutic spa experience – designed specifically with large families and entertainment in mind. This astonishing 71 high-performance jetted spa offers the most space of any Elite spa. Its unprecedented 9-seat layout provides top-of-the line luxury and comfort, without sacrificing therapy or performance.
Fully customize your own spa. Including standard and optional features.
COMPLETE CONTROL AT YOUR FINGERTIPS WITH DIRECTFLOW PERSONAL CONTROL® SYSTEM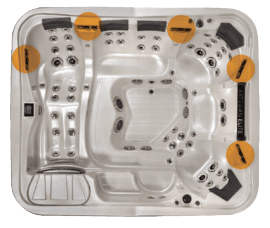 The innovative patented DIRECTFLOW™ system of the Artesian Elite class allows each person to create a customisable and unique experience, targeting their own individual areas of tension.
DIRECTFLOW™ makes use of highly energy efficient, long-lasting pumps and motors, linked directly to each individual hydrotherapy zone. Each seat is controlled by a DIRECTFLOW™ personal control panel consisting of an on/off switch, as well as an air control for the jets and a Variable Flow Control™ (VFC) located within easy reach. The VFC is an integral part of the DIRECTFLOW™ system. This patented valve gives users the ultimate in personalised control over the spa hydrotherapy environment. Say goodbye to sore muscles, tension and stress as you relax your body into a state of euphoria – each and every day!
Specifications
Standard features
Optional features
Standard features

Warranty:
– 12 Year Structure
– 7 Year Surface
– 3 Year Parts, Labour, Plumbing and Electrical
– 2 Year on Monarch Cabinets
– 1 Year on Stereo and AOP Systems
Curved shell design measuring 108cm at the back and 93cm at the front of the spa
Stainless Steel H2O PowerFlow Jet Design
Dual Footblaster Jets
Stainless Steel Accents
DynaBrite LED:
(1) 5 in. LED Light, (5) 2 in. LED Lights, Backlit 24″ AllegroFall and (4) BellagioFalls
Patented DirectFlow® Personal Control Technology
Advanced Digital Touch Control System with Artesian Smart Control Pack: Touch Screen, Colour LCD Display, 3 Zone Lighting ready, WiFi Ready (module required) and Multi-language Interface
Diamond AOP Water Treatment System
Morbern 5 in. Maximum Tapered ASTM Cover
Full Foam with PermaBase ABS Pan
WhisperPure™ Circulation System with Microfilter
Monarch Cabinet
Titanium Heater: 3.0 kW
Optional features

Stereo System:
1) BBA Fully Integrated Bluetooth Sound System: 4 x 2" Polk interior speakers and sub-woofer
2) Premium Polk Sound System: 4 x 2" Polk interior speakers, Bluetooth, Radio AM/FM, and Power sub-woofer
3) 2 x 6.5" Polk Patio Speakers (only available with Premium Polk Stereo System)
Midnight Glow Lighting System: 4 x Corner Cabinet Lights and 360° Skirt Lighting (N/A on Rock Cabinetry)
SpaFrog System: In-Line Sanitisation system for cleaner, clearer and softer spa water (bromine and water conditioning cartridges not included)
Worldwide Wireless Spa Control App: Control your spa from your smart phone or smart device from anywhere in the world
Rock Cabinetry